Governor Chris Christie · Lt. Governor Kim Guadagno
Improving Health Through Leadership and Innovation
In the spotlight...
What's New
Rules and
Regulations
Vital Records
Health Happenings
Palliative and End of Life Care
How do I...?
How can we help you today?
0

Web Pages

0

Health Facilities

0

Job Openings
About the New Jersey Department of Health
Welcome to the New Jersey Department of Health
Mary E. O'Dowd, M.P.H.
Commissioner
P.O. Box 360
Trenton, NJ 08625
Search for Offices & Programs
Your Health
fPartnering for a Healthy New Jersey
Show information specifically for:
Healthcare Facilities & Services
New Jersey is home to over 2000 licensed hospitals, nursing homes, and medical care facilities. Search for a facility, or learn more about the Division of Certificate of Need and Licensing, Division of Health Facility Survey and Field Operations and Office of Health Care Financing.
Public Health
The NJDOH is aware of 9 cases of invasive meningococcal disease (meningitis) associated with Princeton University.
Health IT, Facts & Findings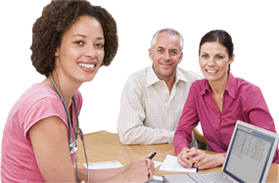 New Jersey's Three Part Approach to Health Information Technology:
Helping providers transition to electronic health records
Establishing Health Information Organizations
Connecting through a Statewide/Nationwide Exchange
Rules, Regulations, Policies & Requirements
Office of
Legal and Regulatory Compliance
Additional Resources
New Jersey Vital Records
The Office of Vital Statistics and Registry registers vital events and maintains the following vital records:
- Adoptions – foreign and domestic
- Birth, marriage and death records
- Civil union records
- Domestic partnership records

Health Happenings
Loading ..
Events on Select Date Above*
Event dates are marked with an asterisk (*). Please select a date above to see the events for that day.
Mark Your Calendar
Palliative and End of Life Care
Planning for end-of-life care is important for ensuring that your medical preferences are properly carried out by your health care provider.
These resources are designed to make end-of-life decisions clear so that loved ones and medical professionals know what steps should be taken on your behalf.
What's New
Mary E. O'Dowd and Betsy Ryan / Talk now about end-of-life decisions
Far too many people wait until a health care crisis to think about the kind of care and treatment they would prefer near the end of their lives. More than nine in 10 Americans think it is important to discuss their wishes for end-of-life care, but only three in 10 have actually had these discussions, according to The Conversation Project.
It's never too early for any of us - young or old, healthy or not - to plan for future health care decisions. The gathering of family for Thanksgiving offers an opportunity to begin to talk about preferences for care at the end of life.
End-of-life care raises many difficult and emotional issues, which weigh heavily on the patient and family and are often complicated by inadequate planning. By reviewing options for care and having discussions in advance, people can alleviate some of the challenges that come along with a serious illness.
Read More